About
Sustainable Organic Solutions is a new company that is dedicated to educating the consumer regarding a healthier, less toxic environment. We know sleep is healthy but to sleep in an unhealthy environment is counter productive. Ultimately to sleep in a Chemical Free environment is the best of both worlds.
Recent studies have indicated that the most polluted room in the house is the bedroom and that it may have up to three times more pollution than outdoor air. According to the EPA, indoor air is considered to be one of the top five hazards to human health. Just where does this pollution come from and what can be done to lessen or eliminate it?
YOUR BEDROOM IS A CHEMICAL DUMP
Wood bedroom furniture ( sometimes referred to as casegoods ) is one of the major culprits. Most bedroom furniture ( especially Chinese imports ) is composed of veneer, particle board, and MDF ( medium density fiberboard ). This type construction off-gasses known carcinogens such as urea-formaldehyde or phenol-formaldehyde into the bedroom air. In addition, conventional lacquer finishes emit VOCs ( Volatile Organic Compounds ) further contributing to bedroom pollution. Prolonged exposure can cause asthma and skin irritation.
CHEMICAL FREE WOOD FURNITURE
We feel very fortunate to be given the opportunity to represent URBAN WOODS COLLECTION and offer a true non-toxic solution to furnishing the bedroom. Furniture from URBAN WOODS is made of reclaimed wood with solid wood construction eliminating the need for veneer and particle board glues. The finish is composed of water based materials and non toxic stains. Where needed, only water soluble, formaldehyde free glues are used.
CERTIFIED BY THE SUSTAINABLE FURNITURE COUNCIL


In addition to the obvious health benefits, the URBAN WOODS COLLECTION is certified by the Sustainable Furniture Council. URBAN WOODS uses reclaimed wood from vintage buildings which helps save the environment in two ways – 1) saves cutting down trees and allows living forests to remain intact 2) helps eliminate wood waste destined for the local land fill. Scientists estimate that we are losing more than 137 species of plants and animals every single day due to rainforest deforestation.
MADE IN USA
What does made in the USA have to do with saving the planet? Most foreign manufacturers practice zero environmental regulations while their Government simply "looks the other way". According to The New York Times, one cargo ship coming into a US port can expel as much toxic emissions as 350,000 current-model autos in one hour. Cargo ships have become one of the leading sources of air pollution. The total carbon footprint of Urban Woods product made in the USA is significantly less than that of imports.

MATTRESSES
The second contributor to making a bedroom a chemical dump can be your mattress. The Consumer Product Safety Commission (CPSC) passed a regulation that by July 1st 2007, all mattresses made in the USA or imported had to pass a fire retardant test. Most manufacturers solved the problem by either introducing a chemical into the mattress foam or creating a chemical fire retardant "sock" to cover the mattress. In either case, the results of additional chemicals create more problems than it solved. Please read the article below from the Sacramento, California newspaper under health and Fitness.
SACRAMENTO, CA – Sept. 22, 2003 (Send2Press Newswire) — Studies presented by the Environment California Research and Policy Center earlier this year have linked PBDE fire retardants (polybrominated biphenyl ether) to learning disorders and ADHD in children, and to disruption of thyroid hormone balance, as well as a host of other environmental concerns. By using wool, which is naturally flame-resistant and natural fibers like certified organic cotton manufacturers are able to construct a chemical free alternative mattress.
Consumers may not be aware that alternatives exist or even that their mattresses are a potential health risk. But one study demonstrated that PBDEs are found in the breast milk of nursing mothers at alarming levels and that the levels are growing exponentially. That study prompted Assemblywoman Wilma Chan, D-Oakland to draft a bill prohibiting PBDEs from products manufactured for sale in California. Gov. Gray Davis signed the bill into law in August, to go into effect in 2008.
In the meantime, as PBDEs are used in most mattresses, customers have few alternatives. PBDEs have already been banned in the European Union and have been called the PCB of the new millennium because they remain in the environment and build up in body tissues over a lifetime. The EPA is still evaluating the associated risks and has yet to act.
EDUCATE NOT OBFUSCATE
The purpose of this article is not to scare you but to try to educate you to become a savvy shopper. Whether or not you buy from us, we hope that you will make the right buying decision for you and your family. Since we spend approximately 1/3 of our life in the bedroom, it should be the safest and healthiest room in the home. Your bed should be something to look forward to at night and something you hate to leave in the morning.
MATTRESS MISCONCEPTIONS
Purchasing a mattress can be extremely confusing and stressful trying to decide among the many different models, different manufacturers, different specifications, and most of all different prices. There are many misrepresentations and tricks used by retailers to close the deal and a few of them are listed below.
1. Store offers guaranteed lowest price or money back
A-Store has exclusivity of the label so there is no risk
2.  Store advertises organic cotton and wool
A-The trick is to make you think both cotton and wool are organic
B-If the wool is truly organic, it will state organic wool
3. Store advertises bamboo cover as natural or organic
A- The rest of the mattress is full of chemicals
There are many more tricks but you get the idea. You get what you pay for and a truly organic chemical free mattress is worth the investment in your health, your comfort, and self satisfaction that you are doing your small part to help save the planet.
CHEMICAL FREE MATTRESSES
Our mattresses are made chemical free and composed of organic cotton, organic wool, and natural latex with no added synthetics. No matter which method is used to process the latex, Dunlop ( firm comfort ) or Talalay ( softer comfort ), man made synthetics are not introduced into the production cycle. The cotton and wool used in all our mattresses are organic and no pesticides, insecticides, chemical fertilizers, synthetic blends, or dyes are used. We could go into much greater technical detail in describing the process as well as the finished product. However, that is a favorite tactic of mattress manufacturers who have something to hide such as the fact that they are not totally chemical free.
LATEX COMFORT
Natural latex can help you be assured of a peaceful sleep by keeping your spine aligned, in any position, relieving all pressure points so prevalent in coil springs. Natural latex conforms to your body providing superior back support and absorbs most of the normal body movements during sleep. Your latex mattress will help you get a better regenerative nights sleep and could possibly be the last mattress you will ever have to buy.
GREEN/Sustainability
Our natural latex comes from Sri Lanka, a fair trade country, where ecological objectives rank just as high as advanced manufacturing.systems and humanitarian concerns. We have already discussed organic cotton and organic wool and how both of them remain green from cradle to cradle. All our raw materials in our mattresses are bio degradeable and environmentally friendly.
CUSTOMIZE YOUR MATTRESS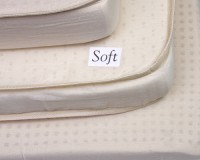 You may customize your mattress by specifying the degree of firmness for each layer ( firm-Medium-soft ) as well as the degree of firmness for each side of the mattress. This is especially important where the wife wants medium comfort and the husband wants a firm comfort. Studies have concluded that adults change their firmness preference approximately every ten years. The ability to change the firmness easily in the future is a definite plus.
CONTACT US
205 Neal Street Suite 101
High Point, NC 27262
(336)-885-0557
Our goal is to assist you in finding the right mattress with the correct firmness resulting in a restful and healthy nights sleep. Many latex mattresses were manufactured in the 1950`s and 1960`s and were known for their longevity – some lasted for 30 years or longer. With the many options available on layers as well as each side, this purchase may well be the last mattress you will ever have to buy. Whether you end up buying from us or not, we look forward to helping you with the very complicated mattress shopping experience.